Five Steps for Successful ERP Implementation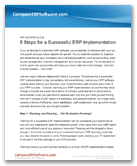 If you've decided to implement ERP software, you've decided to embrace both your current growth and your future capacity for growth. You've made the decision to organize and streamline all your processes into a centralized platform, such as accounting, warehouse management, inventory management and human resources. You've decided it's time to greet new opportunities and help your team make the most strategic, informed choices possible – now what?
Download our FREE report to learn the 5 steps to a Successful ERP Implementation.