ERP Software Gets Social: Why Social Media Tools are Making Thier Way into ERP Solutions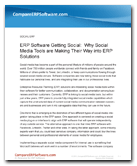 Social media is everywhere. While it has been used by businesses to improve their branding efforts, social media is now making its way into ERP solutions. ERP solutions that integrate social media tools are doing so to help improve communication and collaboration throughout the company. Could an ERP solution with social media tools be the right solution for your company?
Download your FREE Copy of ERP Software Gets Social and see how your company could benefit from a social ERP solution.