ERP Industry Update: The Rise of Cloud ERP Solutions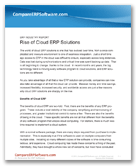 Software is always evolving to keep up with changing technologies and customer needs. The latest evolution of ERP software has been the rise of cloud ERP solutions. With promises of easier implementations, huge cost savings and worldwide access, companies are starting to embrace ERP on the cloud. While implementations will be easier, will your company get all the same benefits from a cloud solution as an on-premise one?
Download our FREE report on how cloud ERP solutions have risen to popularity and where this trend will take ERP software.